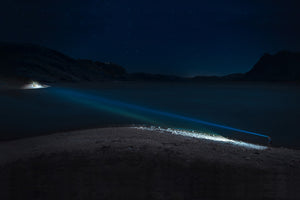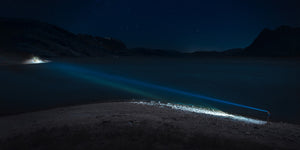 Long Range Lighting Solution
Beam Distances of up to 1 mile
Ten times further than a standard LED flashlight.
NEBO has released a powerful, advanced range of USB-C rechargeable and water-resistant flashlights, each with unique and key features for any professional or outdoor enthusiast.
The Luxtreme SL flashlight range features powerful LED and new LEP (laser excited phosphor) technology combined with advanced optics to give you optimum light and distance when required.
The Luxtreme SL series ranges from a spotlight blasting light up to 400 metres away, to the SL100 achieving incredible beam distance of up to a mile long an incredible 1600 meters.
What is Laser Excited Phosphor (LEP)?
Regular lights have been compared by their lumen output in relation to brightness. However the Luxtreme SL series uses a low lumen output with the help of LEP technology to focus the light for long distance spotting.
Compared with traditional light sources, one of the main advantages of LEP lighting (light emitting plasma) is the ability to produce a large amount of light from a small space.
An example to demonstrate this would be a fingertip sized LEP bulb can produce up to 10,000 lumens of equivalent light.
Model Comparison
| | | | | | |
| --- | --- | --- | --- | --- | --- |
| MODEL | LEP Runtime | COB Runtime | LEP & COB Runtime | RED Runtime | Charge time |
| Luxtreme SL100 | 6h 15m | 13h 40m | 12h | 10h 16m | 3h |
| | High Runtime | Medium Runtime | Low Runtime | | Charge time |
| Luxtreme SL75 | 5h | 10h 30m | 30h | | 3h |
| Luxtreme SL50 | 8h | 18h 50m | 40h | | 3h |
| | Spot Runtime | Flood Runtime | | RED Runtime | Charge time |
| Luxtreme SL25R | 2h | 3h 30m | | 6h | 3h |